Lawrence Johns and Paul Flum combine to present the Western Way Institute "manifesto" to the future...to the future successor of Homo Sapiens, named "Homo Sagax" after Cicero.

The manifesto presents five points:

1. Will
2. God
3. Class
4. Evolution
5. Manifesto

This is the sequel to I'M CARLOS NOW.

​Will is Reality!



Powered by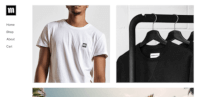 Create your own unique website with customizable templates.